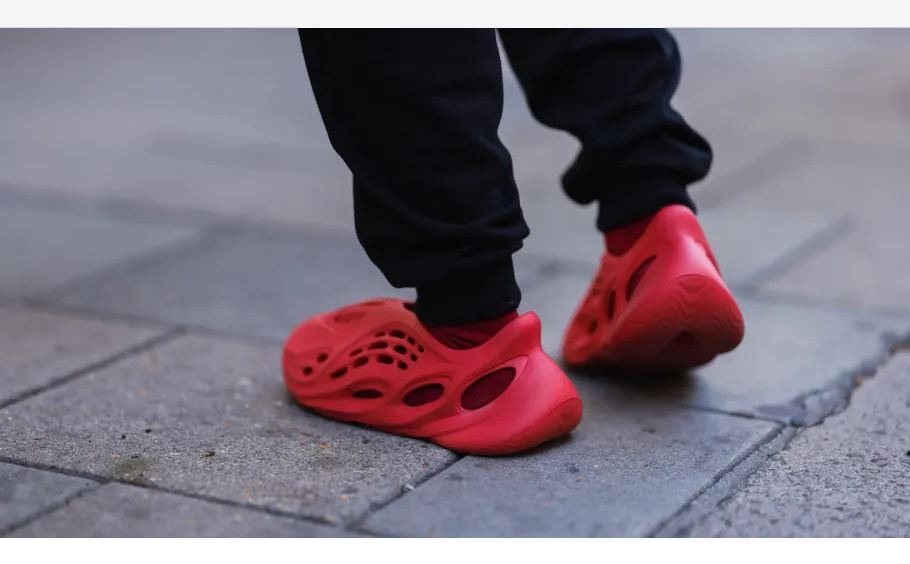 Har vi sett det sista av Adidas Yeezy?
Adidas, den tyska sportklädesjätten, befinner sig i en minst sagt komplex situation som har lämnat sneakervärlden i en virvel av spekulationer. Företagets lager av Yeezys uppskattas till ett värde av 300 miljoner euro – en skattkista i limbo, som kanske aldrig kommer att släppas. Detta lager, som byggts upp av det extremt lönsamma samarbetet med Ye, tidigare känd som Kanye West, är nu i centrum för en affärsgåta.

Det var ett samarbete som omdefinierade sneakerkulturen, där Adidas hantverk mötte Ye's vision, och skapade en serie av design utöver det vanliga som kom att bli kulturella grundstenar för streetwearen. Men som ordspråket säger, allt gott har ett slut. I oktober 2022 uttryckte Ye en rad antisemitiska kommentarer i intervjuer och på sociala medier, vilket resulterade i att Adidas bröt samarbetet med artisten och designern. Partnerskapets upplösning lämnade Adidas med mer än bara minnen - det lämnade dem med ett lager som både är en essentiell tillgång men också ett oönskat bekymmer.

Under en nyligen arrangerad telefonkonferens informerade Adidas VD Bjoern Gulden att det finns en risk att företaget aldrig kommer släppa kvarvarande lager av Yeezys. Detta skulle medföra en kostnad på cirka 200 miljoner euro att skriva av kvarvarande lager. En avskrivning skulle påverka deras räkenskaper, men i det här läget är frågan mer komplex än bara siffror. Ett beslut, oavsett riktning, kommer påverka varumärke, marknad och framtida partnerskap. Adidas har tidigare kommunicerat att man planerar att donera närmare 140 miljoner euro som genererats från deras två Yeezy-släpp i år. Pengarna ska skänkas till organisationer som arbetar för att bekämpa diskriminering och hat, inklusive rasism och antisemitism. Men av att döma av sentimentet i Guldens tal är känslan att denna goodwill inte längre är lika självklar. "Vi hoppas naturligtvis att vi kan anordna fler släpp nästa år och att vi kan få värde ur det och donera intäkterna till bekämpa diskriminering och hat men just nu, finansiellt, har vi inte fattat ett beslut," sade Gulden.

Så vart lämnar allt detta oss? En utebliven lansering av kvarvarande produkter skulle kunna skapa ett vakuum på andrahandsmarknaden, potentiellt blossa upp värdet på befintliga Yeezys. Tvärtom, kan det minska hypen som omgett varumärket, vilket får samlare och fans att ifrågasätta framtiden för sina älskade Yeezys. Som entusiaster och analytiker undrar vi—kommer dessa sneakers skapa historia i modern tid, där kvarvarande par förblir undangömda likvärdig en skattkista, eller kommer de så småningom att hitta sin väg till ivriga fötter runt om i världen? Bara tiden kan utvisa!
 
In English
Adidas, the German sportswear titan, finds itself in a peculiar position that has left the sneaker world in a whirlwind of speculation. The company's vaults are holding onto an estimated €300 million worth of Yeezy sneakers—a treasure trove in limbo, potentially never to be released. This stockpile, amassed from the highly lucrative partnership with Ye, formerly known as Kanye West, is now at the center of a business and cultural conundrum.
It was a match that redefined sneaker culture, where Adidas's craftsmanship met Ye's vision, birthing a series of designs that transcended footwear to become cultural staples. But as the saying goes, all good things come to an end. In October 2022, Ye made a string of antisemitic comments in interviews and on social media, resulting in Adidas cutting ties with the musician and designer. The partnership's dissolution left Adidas with more than just memories; it left them with an inventory that's both a blessing and a curse.
During a recent conference call, Adidas CEO Bjoern Gulden shared that the company is exploring the possibility of no longer entertaining the idea of dropping Yeezy products. If it does plan to never release its Yeezy stock, Adidas will need to pay a €200 million removal cost. For Adidas, this stock represents a significant financial quandary. Writing it off could impact their books, but it's not just about numbers; it's about brand perception, market influence, and future partnerships. In addition, Adidas is currently planning to donate €140 million EUR generated from its two Yeezy drops this year to organizations working to combat discrimination and hate, including racism and antisemitism. However, judging by the sentiment of Gulden's recent conference, that doesn't seem as obvious any longer. "We of course hope that we can do more drops next year and that we can get value out of it and donate proceeds to anti-hate groups but right now, financially, we haven't made the decision," Gulden said.
The ramifications extend beyond Adidas. A permanent non-release could create a vacuum in the resale market, potentially inflating the value of existing Yeezys. Conversely, it could deflate the hype that surrounded the brand, leaving collectors and fans questioning the future of their beloved Yeezys. Furthermore, their commitment to donate a significant portion of the proceeds to anti-discrimination efforts paints Adidas in a philanthropic light, possibly cushioning the blow from any potential write-offs. As enthusiasts and industry analysts alike, we're left to wonder—will these sneakers become the stuff of legend, hidden away like a modern-day treasure, or will they eventually find their way to eager feet around the globe? Only time will tell!